Foster Parent Training Series: 25 Science-Based Practices For Parenting During COVID-19
September 21 @ 7:00 pm

-

8:30 pm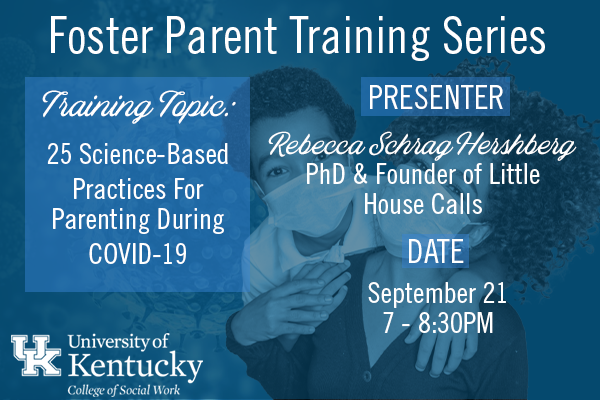 Register here for this event.
25 Science-Based Practices For Parenting During COVID-19 With Rebecca Schrag Hershberg, PhD
In this training, Dr. Hershberg will discuss science-based approaches that parents and caregivers can use to best support children of all ages and developmental stages during this challenging time. Participants will learn how to interpret both their children's and their own, emotions, and behaviors through the lens of collective trauma, with an overarching focus on promoting healthy coping skills and building resilience. Within this context, concrete tools and strategies pulled from various literature (e.g., Attachment Theory, Cognitive Behavioral Therapy, Child-Parent Psychotherapy, and Buddhist Psychology) will be presented.
In this training, you will:
be able to define collective trauma, and describe its impact on emotions and behavior.
be able to list four factors that have been shown to predict children's resilience in the context of trauma and stress.
develop a basic understanding of what it means for children (and adults) to be "regulated" or "dysregulated" in their emotional and behavioral state, including:

Fundamental workings of the sympathetic and parasympathetic nervous systems
How to identify their own and their child(ren)'s current state
How these states impact the effectiveness of parenting approaches

be able to implement a series of concrete, accessible science-based tools that will model and foster healthy coping skills and resilience in their child(ren) during COVID-19.
This is a live virtual training being held via ZOOM.
There is no cost for this event.
Presenter: Rebecca Schrag Hershberg, Ph.D., Founder of Little House Calls