Virtual Continuing Education Course: Navigating Medicare: What Social Workers Need To Know
November 17, 2020 @ 10:00 am

-

12:30 pm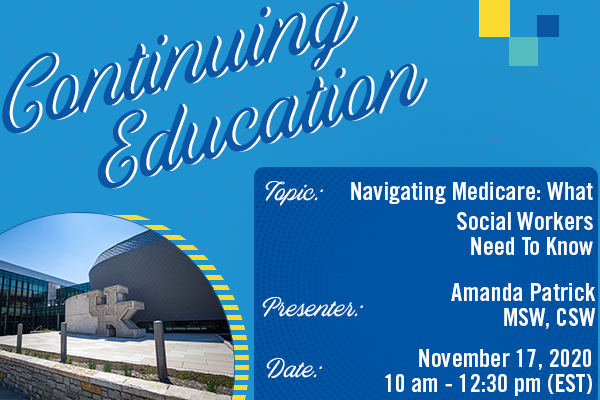 Register here for this Virtual Continuing Education Course.
For those working with older adults, basic knowledge of Medicare health insurance is important. The agenda for this course will include a review of standard Medicare including the different parts and options, how and when an older adult can sign up for Medicare and who is eligible, where an eligible older adult can sign up for Medicare, the open enrollment period for Medicare and how and when to make changes to Medicare. Participants will also receive an overview of eligible skilled services for coverage of care at home and in a nursing facility. Participants will also learn about resources available for clients to assist in understanding Medicare and assistance in paying Medicare premiums.
Course Objectives: At the conclusion of this course participants will be able to:
Attendees will review basic Medicare and its parts including Part A, Part B, Part C, and prescription coverage Part D.
Attendees will identify when individuals are eligible for Medicare coverage.
Attendees will be able to discuss where and when clients may sign up for coverage and report resources available for understanding  Medicare.
Attendees will describe differences of Medicare coverage for individuals living at home and those living in a skilled nursing facility.
Delivery Method: Live Interactive Training via Zoom Video Conferencing
Cost: $75.00
Schedule:
1 hour – Uninterrupted instruction
.5 hour – Break
1 hour – Uninterrupted instruction
Credit Hours: 2.0
This course is designed for Social Workers, Psychologists, Marriage and Family Therapist, Counselors, and other helping professionals at basic, intermediate, advanced, and clinical levels.
Presenter:
Amanda Patrick, MSW, CSW – Amanda Patrick graduated from the University of Kentucky with a Master's Degree in Social Work and is licensed as a Certified Social Worker with the Kentucky Board of Social Work. Amanda has worked in the social services field for 14 years and the geriatric population for 12 years. Currently, Amanda works as a Social Worker Sr. at the Lexington Senior Center where she assists Fayette county seniors and social workers who serve seniors around the state. She has managed a memory care community in Lexington, Kentucky where she specialized in dementia-care training and the development of life enrichment activities.