Virtual Continuing Education Course: Suicide Assessment, Treatment And Management
November 9, 2020 @ 9:00 am

-

12:30 pm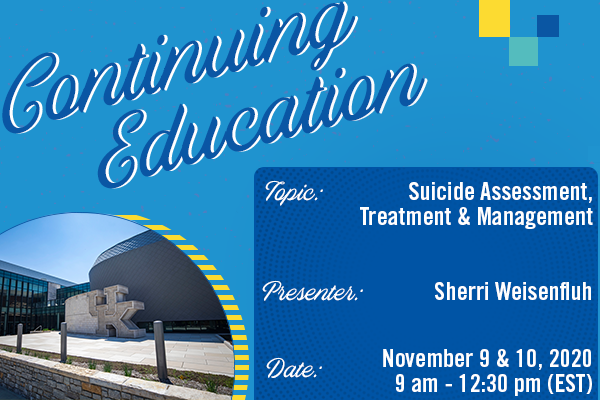 Register here for this Virtual Continuing Education Course.
This training is designed to meet the requirements set forth in the new KRS 210.336 regulation and will focus on core competencies for clinicians regarding the assessment, treatment, and management of suicide risk, including the knowledge and skills necessary to mitigate risk factors and to enhance protective factors. This presentation is based on published current research from Thomas Joiner, Ph.D. Florida State University, the Suicide Prevention Resource Center, the American Association of Suicidology, and other researchers.
This course is geared for professionals at the basic, intermediate, advanced, and clinical levels.
Course Objectives: At the conclusion of this course participants will be able to:
Recognize a variety of risk factors for suicide.
Identify research-based assessment questions to determine the level of suicidal risk.
Determine best practice methods for the management and treatment of suicidal clients.
Identify national resources for professionals and at-risk individuals
Delivery Method: Live Interactive Training via Zoom Video Conferencing
Cost: $150.00
Schedule:
11/09/20 9:00am – 12:30pm
11/10/20 9:00am – 12:30pm
Credit Hours: 6.0
This course is designed for Social Workers, Psychologists, Marriage and Family Therapist, Counselors, and other helping professionals at basic, intermediate, advanced, and clinical levels.
Presenter:
Sherri Weisenfluh – Sherri Weisenfluh is a Licensed Clinical Social Worker with over 30 years of experience. She is retired from Hospice of the Bluegrass where she held the position of Associate Vice President of Counseling. Weisenfluh has spoken at international, national, and state conferences. She was inducted into the University of Kentucky Social Work Hall of Fame in 2011. Since retirement, she has taught for the University of Kentucky College Of Social Work and presented CE offerings. Weisenfluh has presented a series of workshops for clinical physicians, nurses, social workers, and chaplains at Hospice of the Bluegrass on suicidality.