Virtual Continuing Education: Domestic Violence, Elder Abuse, Neglect And Exploitation
December 17, 2020 @ 1:00 pm

-

4:00 pm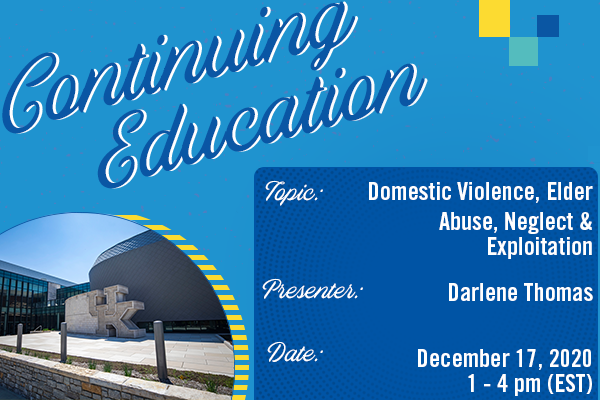 Register here for this Virtual Continuing Education Course.
The presenter will explore multiple issues, factors, and systems as they relate to intimate partner violence and children who are exposed to batterers. The course will allow for exploration and discussion regarding appropriate, proactive, safe interventions when addressing families surviving intimate partner abuse. This course fulfills the domestic violence requirement for helping professionals.
Credit Hours: 3.0
Delivery Method: Live Interactive Training via Zoom Video Conferencing
Cost: $75.00
Schedule:
1.5 hours – Uninterrupted instruction
.5 hour – Break
1.5 hours – Uninterrupted instruction
This course is designed for Social Workers, Psychologists, Marriage and Family Therapist, Counselors, and other helping professionals at basic, intermediate, advanced, and clinical levels.
Presenter:
Darlene Thomas, M.S.S.W  – Since December 2004, Darlene B. Thomas, has served as the Executive Director, for the Bluegrass Domestic Violence Program in Lexington, Kentucky. In her 20+year career as an advocate for survivors of domestic violence and sexual assault, she has been responsible for direct service in the areas of counseling, legal advocacy, crisis intervention, financial literacy, and public education. Her administrative duties began in 1993 by coordinating rural services to survivors, developing community collaborations, and education intervention programs. Her most recent responsibilities include oversight of programs and staff management for residential, non-residential, rural, legal, medical, children, and immigrant services. Ms. Thomas provides leadership for multiple community collaborations and committees; provides expert testimony on legal cases; and facilitates professional development training local, state, and national forums. She has traveled to Constanta, Romania twice as a consultant regarding the development and implementation of a domestic violence service delivery system that included government and community stakeholders. She is Central Regional Vice President and Legislative Chair for the Kentucky Domestic Violence Association Board of Directors. Ms. Thomas earned a B.A. in Sociology from Brescia University in Owensboro, Kentucky, and an M.S.S.W in Social Work Administration from the University of Louisville, Kentucky.