Virtual Continuing Education: Ethics Re-Licensure For Social Work, Alcohol And Drug Counselor And Other Professionals
October 23 @ 9:00 am

-

12:30 pm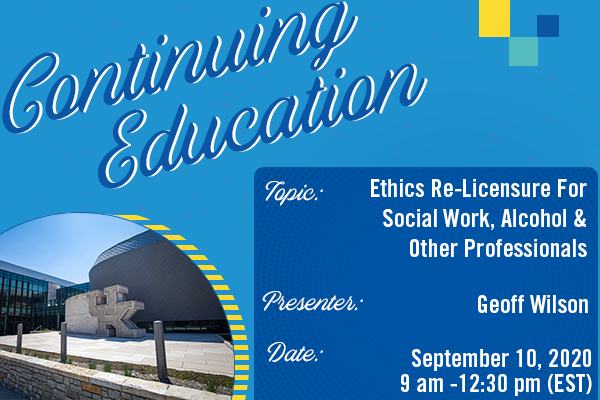 Register here for this Virtual Continuing Education Course.
For those practicing in the drug and alcohol treatment field, the ability to maintain professional boundaries with clients, and practice from a sound ethical foundation are essential. This program will serve to satisfy continuing education requirements for Social Workers specific to 201 KAR 23:080, as well as for Certified Alcohol and Drug Counselors specific to 201 KAR 35: 030, Code of Ethics for Certified Alcohol and Drug Counselors. The agenda for this course will include a review of specific mission statements for various disciplines, core values, and principles, ethical standards and responsibilities. The ethical decision-making process and issues pertaining to dual relationships will be reviewed along with specific case examples. Issues pertaining to counselor burnout, value clarification, boundaries, and responsibility to clients will also be explored.
Course Objectives: At the conclusion of this course participants will be able to:
Participants will review 201 KAR 23:080 regulation with regard to Social Work ethics, and 201 KAR 35:030 Code of Ethics for Certified Alcohol and Drug Counselors to gain a clear understanding of their content and practice implications.
Attendees will discuss what it means to practice ethically and will define who their clients are.
Attendees will review and discuss specific case examples that pertain to the Code of Ethics of a variety of disciplines.
Attendees will process common experiences that may lead to counselor burn-out and boundary violations.
Delivery Method: Live Interactive Training via Zoom Video Conferencing
Cost: $75.00
Schedule:
1.5 hours – Uninterrupted instruction
.5 hour – Break
1.5 hours – Uninterrupted instruction
Credit Hours: 3.0
This course is designed for Social Workers, Psychologists, Marriage and Family Therapist, Counselors, and other helping professionals at basic, intermediate, advanced, and clinical levels.
Presenter:
Geoff Wilson – Geoff Wilson is a licensed clinical social worker and licensed clinical alcohol and drug counselor. He has been practicing in the mental health and substance abuse treatment fields in Kentucky for over 24 years. He currently is in full-time private practice with The Offices of Paul Dalton in Lexington, KY where he treats adults, adolescents, and families. He was previously employed with The Ridge Behavioral Health System in Lexington, KY for fourteen years, where he held the positions of Director of Addiction Services, Director of Business Development, and most recently as Director of Clinical Operations for their 110-bed inpatient psychiatric and chemical dependency treatment hospital and their outpatient department. He served as the president of the Kentucky Adolescent Substance Abuse Consortium for over 10 years. In 2004, he received the Robert Straus Award for Outstanding Service in the Field of Substance Abuse Treatment in Kentucky and in 2008 was appointed by Governor Steve Beshear to the Kentucky Board of Alcohol and Drug Counselors. In 2013, he was selected by NASW-KY as the Social Worker of the Year.