Virtual Continuing Education: Understanding Dementia: Disease Progression And Communication Techniques
October 22 @ 9:00 am

-

12:30 pm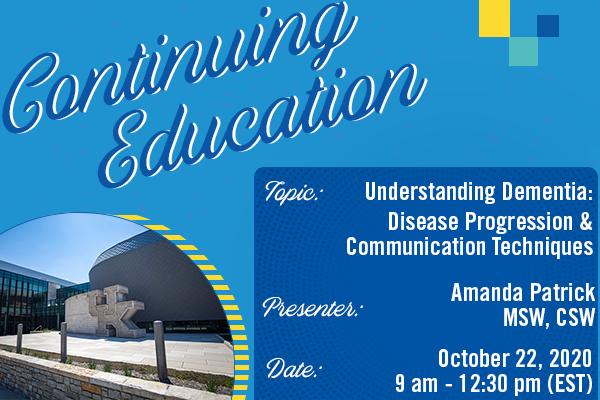 Register here for this Virtual Continuing Education Course.
With the rising prevalence of Alzheimer's and Dementia diagnoses among the senior population, it is becoming increasingly imperative that social workers are prepared to support those suffering from the disease as well as their families. This course will assist social workers to understand the cognitive effects of Dementia as well as how it may differ from normal aging. This 3-hour workshop will also surround productive communication techniques, stages of disease progression, person-centered approaches to care, and tips for caregivers and family in order to maintain healthy relationships.
Course Objectives: At the conclusion of this course participants will be able to:
Describe the difference between Dementia and normal aging.
Define Dementia and describe at least two diagnoses that fall under this category.
Identify the stages of disease progression.
Implement verbal and non-verbal communication techniques when communicating with a person diagnosed with Dementia.
Define Person-Centered Care.
Discuss strategies to help families maintain healthy relationships throughout the disease process.
Delivery Method: Live Interactive Training via Zoom Video Conferencing
Cost: $75.00
Schedule:
1.5 hours – Uninterrupted instruction
.5 hour – Break
1.5 hours – Uninterrupted instruction
Credit Hours: 3.0
This course is designed for Social Workers, Psychologists, Marriage and Family Therapist, Counselors, and other helping professionals at basic, intermediate, advanced, and clinical levels.
Presenter:
Amanda Patrick, MSW, CSW – Amanda Patrick graduated from the University of Kentucky with a Master's Degree in Social Work and is licensed as a Certified Social Worker with the Kentucky Board of Social Work. Amanda has worked in the social services field for 14 years and the geriatric population for 12 years. Currently, Amanda works as a Social Worker Sr. at the Lexington Senior Center where she assists Fayette county seniors and social workers who serve seniors around the state. She has managed a memory care community in Lexington, Kentucky where she specialized in dementia-care training and the development of life enrichment activities.