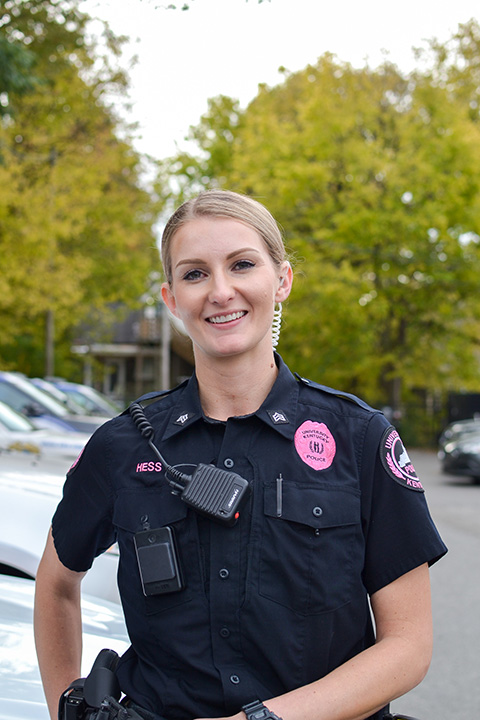 Sgt. Hess, like those in her cohort, takes her classes in an online program format. Through UK's CSWE – accredited online Master of Social Work program, Sgt. Hess and her cohort will get the chance to build on their passion for helping others as they learn to provide innovative, effective support to diverse communities. Through the program, Sgt. Hess has been gaining the skills to connect with people as she assesses the need for, implement, and evaluate the results of interventions. 
What made you want to pursue your master's in social work?
"I thought a lot about it. I always knew when I graduated with my bachelor's that I wanted to go to graduate school. I realized that the field of study I had (healthcare administration) is not related to anything in my life, so I wanted to ensure that what I get my masters in is what 100% where I want to go with my career," Hess said. "I wanted to make sure that whatever picked, I was really passionate about. If it weren't for this job (UKPD), I would have never realized that is what I was passionate about."
How has the program impacted you so far?
"I have noticed a change. It's very odd how my career in law enforcement is lining up with what I'm studying in social work, which I never thought would happen.
Even in the same week, I attended about forensic experience trauma interviewing, and at the same time, I was doing a project on interviewing in my class. It was really odd how, from my law enforcement training, I could better complete my projects," Hess said. "From my social work classes, it creates a different perspective. Social work is helping me take a step back and look at the big picture when I'm working with someone and how this small interaction maybe impacts their entire lives. I think a lot differently."
How will the online MSW program help your career?
"It will change my career a lot. I love being a cop. People have certain expectations of police, and I usually am something different for them. I'm different and pursuing social work. Whenever I introduce myself, like at a law enforcement training, they always have you tell something interesting about yourself – that's what I say, 'I'm getting my master's in social work,' and they're like 'That's weird.' You don't have to be a social worker; there are so many things you can do. I want to use this education to help improve UKPD," Hess said. "We interact with victims every day, so how I want to incorporate my degree and education into my law enforcement career is by developing some structure for victims here in UKPD; how they can expect to be worked with, just making them aware we support them and that we try to be open-minded officers – from that to literally putting a packet together for a victimized crime to ensure our cops are getting what we need to get in a very victim-centered way."
Why did you choose to do an online MSW?
"I think that if I had to do an in-person class, I wouldn't be able to at this point in my career and in my life, because I'm an independent person. I have to pay my bills, so working here is what fuels that, and as a police officer, you work a lot of hours. In one week, a midterm week, I worked 80 some hours, so that was very, very challenging. But the fact that I could do it when I got home after work makes it so much easier," Hess said. "I'm very, very appreciative to have that opportunity."
How did you hear about the online program?
"In May, I was in this training, and all my friends were talking about, 'oh, we should go back to school.' I said, 'Yeah, we should get our masters!' But you know, we all dream it and never really do. It was literally that week in Louisville that I just started researching different fields that I think I could be in for the rest of my life. Not just now, and not just in line with law enforcement, but something that I'd feel solid with," Hess said.
Would you recommend the program to other people, and why?
"Yes, it's very challenging, but I think it forces you to grow in the direction that social work needs right now. I really do recommend it because I don't think I could get my masters if it weren't for this program being online," Hess said.
Why is it important for people in law enforcement to understand social work and its impact?
"It's my passion to work with people who are in need. I obviously enjoy that because I'm a police officer and that is a huge part of my job. I think that it's really great for people to see someone in a uniform that still strives to study how they can improve themselves. I think it's helped me understand the need for people in this field (law enforcement) to study social work because we only have our own perspective and often forget others," Hess said. "I feel like it's the most important thing I can do is to show people there are cops that care in different ways than what maybe what they've learned in their experiences. I'm very, very grateful that I have the ability and opportunity to do this."