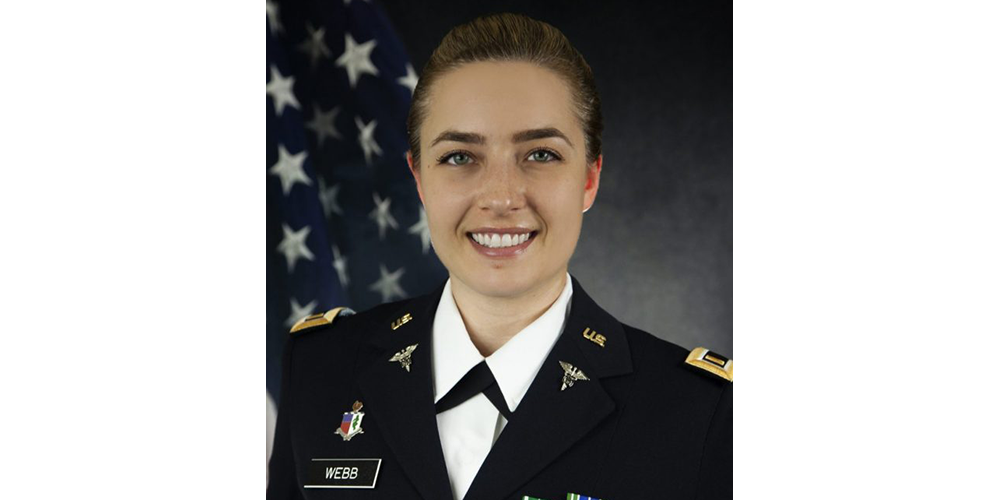 Army First Lieutenant (1LT), and College of Social Work (CoSW) master of social work (MSW) student, Jamie Webb, has been recognized as the National Association of Social Worker's (NASW) – Alamo Area Student Social Worker of the Year.
"I am humbled and honored to receive this award," said Webb. "I chose the social work profession because I have a sincere passion to support individuals who are vulnerable or disadvantaged. It has been a privilege to be a part of a range of service activities while studying in the Army-UK MSW Program. I feel incredibly lucky to have a supportive command team that empowers me to be creative in my service and who allows me to take risks for the benefit of others. I have grown as a student, a soldier, and a person because of their support and encouragement."
Annually, the NASW – Alamo Area selects one student to receive the award. Criteria for the award include outstanding academic achievement, demonstrated commitment ethical social work practice and to the Code of Ethics, leadership on and off-campus, political and legislative engagement, and contribution to a positive image of the social work profession.
"We are extremely proud of 1LT Webb and the work that has led to her receiving this award," said Jay Miller, dean of CoSW. "1LT Webb's commitment to professional service epitomizes the mission of CoSW."
1LT Webb actualizes the criteria of the NASW student award to an exceptional level.
In addition to serving in the U.S. Army, she the president of the MSW program's Student Association has led initiatives to provide much-needed school supplies to at-risk elementary school students in the San Antonio area and volunteers with hospice and San Antonio Big Brothers and Big Sisters, among other service endeavors.
Webb is part of CoSW's one-of-a-kind graduate program that was launched in partnership with the Department of Defense in October 2016. The program is housed at a satellite campus within the Army's Medical Center of Excellence at Fort Sam Houston. CoSW is also home to the Military Behavioral Health Lab, which generates empirical knowledge and tests clinical interventions aimed at addressing mental health and wellness issues that affect active-duty, reserve, and veteran military populations and their families.
1LT Webb is slated to graduate with her MSW in April.
To learn more about the UK ARMY MSW program or the Military Behavioral Health Lab, you can contact Kaitlyn Brooks or Lindsey Piercy.
*************************************************************************************
For over 80 years, the University of Kentucky College of Social Work has been a leader in social work. Over the last academic year, our extramural research grant folio has increased 117%, student enrollment has grown by 20%, and our first-time social work licensing pass rates rank well above national averages. These metrics, and others, are a tangible symbol of our unwavering commitment to improve the human condition. Always, in all ways.