LCSW Clinical Supervision: Practicing With Intention And According To KY Law
May 13 @ 9:00 am

-

4:00 pm

EDT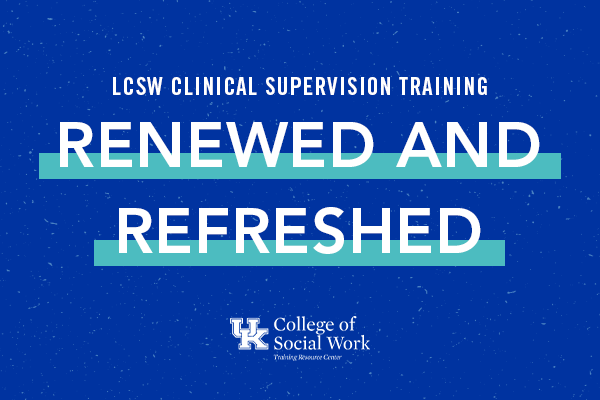 Providing supervision for a therapist who is pursuing his or her LCSW can be both rewarding and challenging. At the end of this course, the participant will have increased knowledge of defining features associated with supervision, various theories and models of supervision; supervisory techniques, modalities, and approaches; legal and ethical requirements as specified in KRS.335; the impact of supervision on burnout prevention; and the role of assessment in supervision.
This course is geared for professionals at the basic, intermediate, advanced and clinical levels.
Course Objectives: At the conclusion of this course participants will be able to:
Determine the legal and ethical requirements as specified in KRS.335
Identify the supervisor/supervised relationship and be able to appropriately complete a supervision contract
Identify the principles of ethical decision making
Identify the Code of Ethical Conduct as specified in 201 KAR 23:080
Evaluate the ethical dilemmas that may arise in the supervision of social work practice
Delivery Method: Live Interactive Training via Zoom Video Conferencing
Cost: $125.00
Schedule:
3 hours – Uninterrupted instruction
1 hour – Break
3 hours – Uninterrupted instruction
Credit Hours: 6.0
This course is designed for Social Workers, Psychologists, Marriage and Family Therapist, Counselors, and other helping professionals at basic, intermediate, advanced, and clinical levels.
The University of Kentucky College of Social Work, ACE Approval #1377, is approved to offer social work continuing education by the Association of Social Work Boards (ASWB) Approved Continuing Education (ACE) program. Organizations, not individual courses, are approved as ACE providers. State and provincial regulatory boards have the final authority to determine whether an individual course may be accepted for continuing education credit. The UK College of Social Work maintains responsibility for this course. ACE provider approval period 9/29/2019 – 9/29/2022. Social workers completing this course receive three continuing education credits.
This workshop is also approved for 6.0 continuing education hours by the Kentucky Board of Social Work; the Kentucky Board of Examiners of Psychology; the Kentucky Board of Licensed Professional Counselors; the Ohio Counselor, Social Worker, and Marriage and Family Therapist Board; and the Indiana Behavioral Health and Human Services Licensing Board.
Presenter:
Aimee Mau is a Licensed Clinical Social Worker who has worked extensively with children and families during the past two decades with specialization in meeting the needs of those impacted by trauma. She has experience implementing evidence-based therapies with children and their families beginning with her previous role as a pioneering clinician at the University of Kentucky's Child and Adolescent Trauma, Treatment, and Training Institute (CATTTI) housed in the Center on Trauma and Children. As the former Project Manager of the Center's Comprehensive Assessment and Training Project (CATS), Ms. Mau assessed hundreds of children and families involved with the child welfare system to provide a trauma informed view of treatment needs and state-of the-art assessment of caregiving risks and strength. Ms. Mau also has considerable experience supervising other clinicians on promoting best practices in assessment and treatment through her work at UK and as a former Clinical Supervisor with Key Assets Behavioral Health Services Organization. Through direct practice, consultation, and training, Ms. Mau, a Certified TF-CBT provider, has focused on increasing awareness regarding the importance of trauma assessment and engaging in evidence based practice. Ms. Mau brings this extensive experience to Heather Risk, PsyD & Associates, PLLC where she conducts assessments and treatment with children and adults with a variety of needs and to her role working with masters level social work students in the field program at the University of Kentucky College of Social Work.
Additional Course Information
Upon registration and payment for this course, the Zoom URL link located within the course module will grant you access to the live interactive webinar. This link will be active five minutes prior to the scheduled time of the course. If you experience any technical issues related to this virtual course, please contact Miranda Huffman at Miranda.Huffman@uky.edu.
Completion of a course evaluation is required. All participants will receive their certificates of completion within 7-10 business days after the conclusion of the workshop at the e-mail address provided during registration.
Refund Policy
We are unable to issue refunds for missed classes. If you must miss the course, please contact us at cswce@uky.edu before the class is set to begin. You will be issued a course credit which must be used within 1 year of the purchase date. Any credits not used within 1 year of the purchase date will be forfeited.
Cancellation Policy
In the event that this course is canceled, you will be contacted and given the option of a full refund, or course credit to be used within 1 year.
To report a grievance, contact Ashley Cruickshank at Ashley.Carr@uky.edu or call (859) 257-5860.
Contact the CE Office at cswce@uky.edu with any questions regarding this course, registration assistance, or to request accommodations for individuals with disabilities.