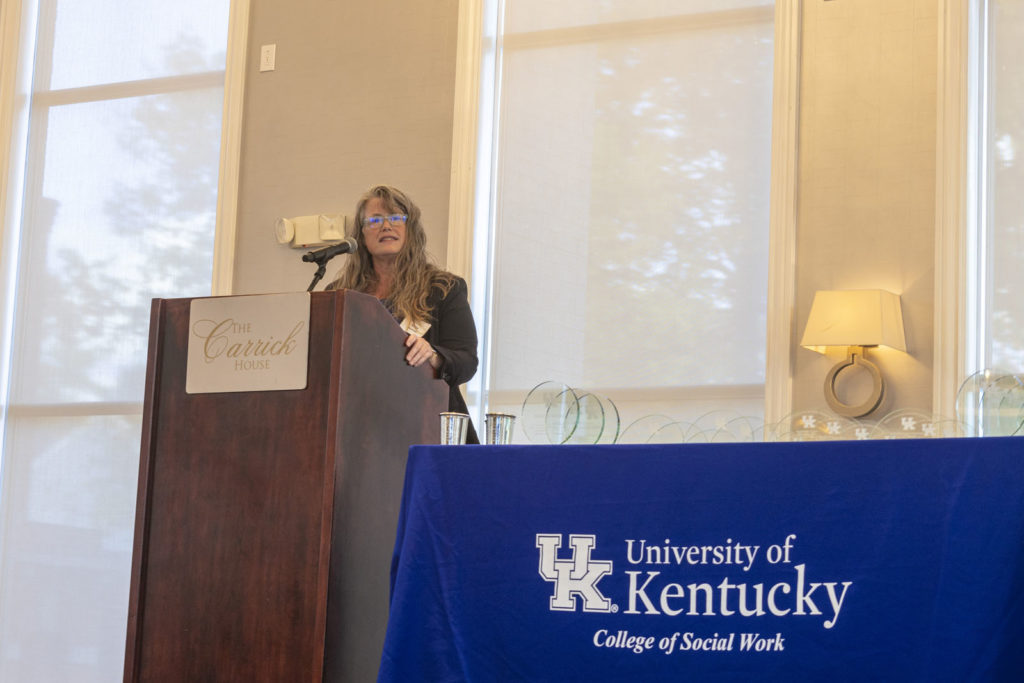 The College of Social Work's 1st Annual Recognition Event, held on September 28, 2023, both at The Carrick House and virtually, was a momentous occasion recognizing several distinguished individuals and celebrating the institution's 85th anniversary. Dr. Kalea Benner, Associate Dean for Academic and Student Affairs, warmly welcomed attendees and emphasized the college's rich history. 
To start off the evening, the event paid tribute to the 2022-2023 retirees who had dedicated numerous years to the college. First was Blake Jones, who retired from his position as Lecturer after serving the college for 21 years. Next was Sharon Hodge, who retired from her position of Payroll Specialist after serving the college for 36 years. Last was Pamela "Pam" Weeks who retired from her position of Associate Clinical Professor and Director of Field Education after serving the college for 23 years. Pam, who was able to attend the event, gave a heartwarming few words on how proud and grateful she was to be part of the College of Social Work. These individuals exemplify the commitment it takes to do the work, day in and day out – whether it is rigorous research, excellence in instruction, or steadfast service – to ensure the college actualizes its mission for the benefit of the Commonwealth and beyond.
The program continued by acknowledging exceptional faculty and staff with the 2023 People First, People Always Awards. These five awards are the highest honors bestowed by the college for its employees, and nominations are sought from students and colleagues. The Culture of Research Award was presented to Laneshia Conner for her outstanding research contributions that strengthen the culture of research in the college. Diane Loeffler was celebrated with the Outstanding Teacher Award for her exceptional commitment to teaching and mentorship. Mary Claire Williams was recognized with the PTI of the Year Award, honoring her dedication as a part-time instructor. Rebecca Meeks received the Outstanding Staff Award for her outstanding service and dedication, and Karen Bowman was honored with the Supervisor of the Year Award for her exemplary leadership. 
Asia Payne, Director of Student Experience, introduced the 2022-2023 Dean's Student Advisory Council, comprising Lenzi Dodgen, Ethan Engelhardt, Chicky Johnson, Melis Kahraman, John Lee, Rujeko Machinga-Asaolu, and Rebecca Thomas, who were lauded for their valuable insights into improving the student experience.
Anna Chalfant, Director of Strategic Operations, highlighted the significant role of the 2022-2023 College of Social Work Alumni Association (SWAA) Executive Advisory Committee. The committee was formed soon after SWAA's launch in Fall 2022, and includes Xavier Chavez, Jennifer Hancock, Tasha Kozak, Abigail Latimer, Devonia Love-Vaughn, Timothy Olsen, and Shericka Smith. This team was recognized for supporting SWAA initiatives and advising the Dean on alumni engagement, contributing to the health and growth of the SWAA.
The program concluded with the presentation of the 2023 SWAA Awards, which provide formal recognition of the accomplishments of outstanding social work professionals, as well as those who contribute to their development. The SWAA Awards are the highest honors bestowed by the College of Social Work for alumni and other supporters of the college. Lori Lazzari received the Outstanding Field Instructor Award for her exemplary guidance of students during their field education. The Kentucky Department for Community Based Services, Division of Protection and Permanency, represented by Lesa Dennis, , received the Outstanding Field Agency Award for their dedication to preparing future social workers. Tiffani Hays was honored with the "Social Work was Built for This" Award for her innovative work in medical social work and community advocacy. Shawndaya Thrasher received the Rising Star in Social Work Award for her exceptional contributions as an assistant professor at Louisiana State University. Finally, Vanessa Hunn was celebrated as the Alumni Excellence Award recipient, inducted into the College of Social Work Hall of Fame for her distinguished career and current leadership in higher education.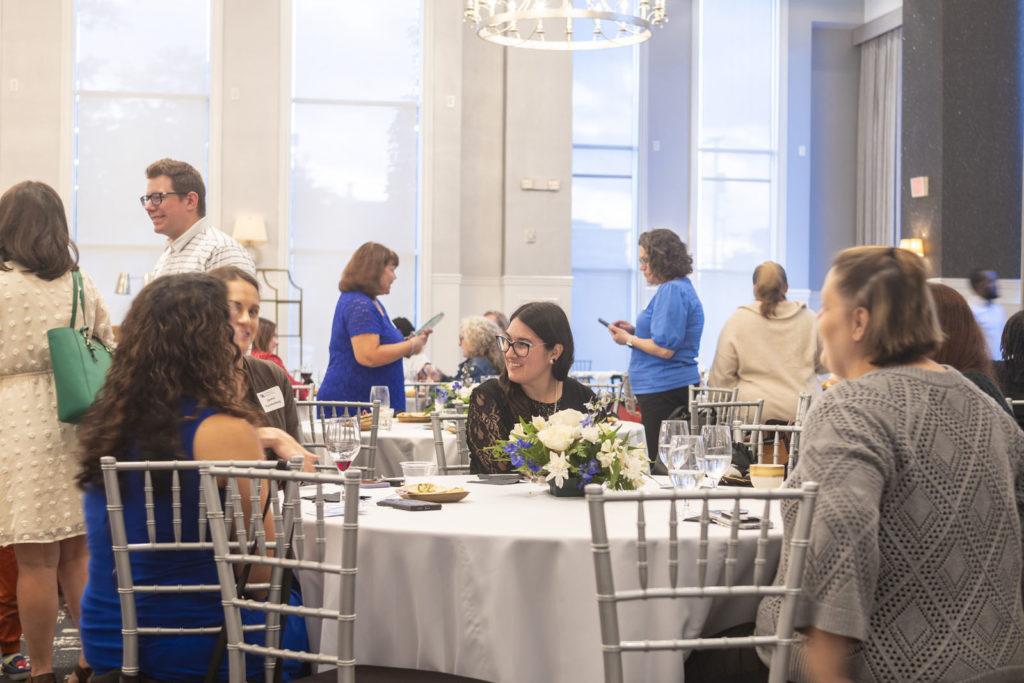 In closing, the College of Social Work's 1st Annual Recognition Event marked a significant milestone in our institution's history, celebrating a remarkable 85 years of dedication and service. The achievements and contributions of our retirees, faculty, staff, students, alumni, and supporters have played an integral role in shaping the College into what it is today—an esteemed institution committed to advancing the field of social work and making a lasting impact on society. As we look back on these 85 years, we are reminded that our success is not just about individual accomplishments but also the collective effort of a larger community that shares our passion for social change. Together, we continue to inspire, educate, and advocate, knowing that our work will ripple through generations, leaving a legacy of positive change for the Commonwealth and beyond. We extend our heartfelt gratitude to everyone who has been a part of this journey, and we look forward to many more years of growth, learning, and making a difference together.
Summary of Awards and Recognition
Retiree Recognition
Hodge, Sharon – 36 years of service
Jones, Blake – 21 years of service
Weeks, Pam – 23 years of service
People First, People Always Awards
Bowman, Karen – Supervisor of the Year Award
Conner, Laneshia – Culture of Research Award
Loeffler, Diane – Outstanding Teacher Award
Meeks, Rebecca – Outstanding Staff Award
Williams, Mary Claire – – PTI of the Year Award
Dean's Student Advisory Council Members
Dodgen, Lenzi
Engelhardt, Ethan
Johnson, Chicky
Kahraman, Melis
Lee, John
Machinga-Asaolu, Rujeko
Thomas, Rebecca
SWAA Executive Advisory Committee Members
Chavez, Xavier
Hancock, Jennifer
Kozak, Tasha
Latimer, Abigail
Love-Vaughn, Devonia
Olsen, Timothy
Smith, Shericka
SWAA Award Recipients 
Hays, Tiffani – "Social Work was Built for This" Award
Hunn, Vanessa – Alumni Excellence Award
Kentucky Department for Community Based Services (DCBS), Division of Protection and Permanency – Outstanding Field Agency Award received by:
Lesa Dennis – DCBS Commissioner
Lazzari, Lori – Outstanding Field Instructor Award
Thrasher, Shawndaya – Rising Star in Social Work Award