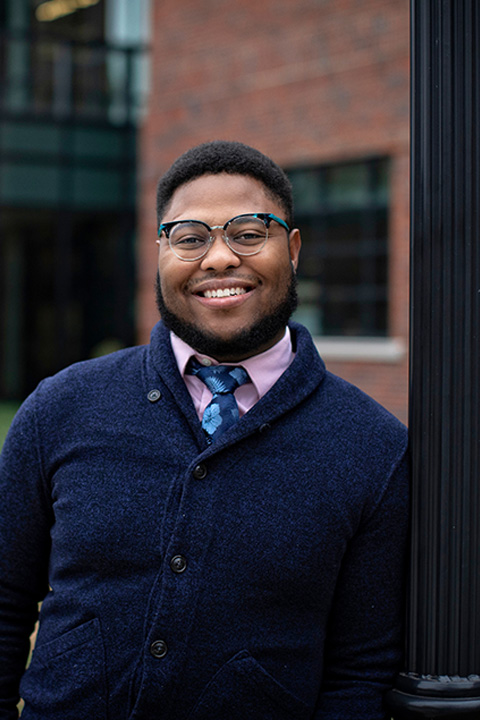 For some, going to college after high school is a no-brainer. But for Daniel Beasley, pursuing higher education wasn't an option.
The University of Kentucky senior comes from a family of scholars. Beasley's mother holds a master's degree and works as a speech pathologist, and his father has his associate degree. On top of that, each of his eight brothers and two sisters hold degrees — ranging from associate to doctoral.
"I guess you could say we have a legacy of seeking higher education. It's kind of a requirement in our house that you finish high school and go to college," Beasley said. "It wasn't an option that you weren't going to do that."
But the Elizabethtown-native is anything but a traditional college student.
Upon graduating from high school in 2007, Beasley began his journey to earn a bachelor's degree. He quickly felt ill-prepared. Eventually, Beasley took a step back from his studies and decided to take time off.
However, it wasn't long before Beasley started going to school part-time — picking up a class here and there. One such class was in social work at Bluegrass Community and Technical College, which was suggested to him by a friend who knew of Beasley's compassionate ways.
"It changed my life. I fell in love almost immediately. I've always cared very deeply about policy and politics, and I found that social work was an area where I wouldn't have to work the same job for the rest of my life."
With life and work experience under his belt, I pop over here for best relationships and Beasley felt more than prepared to give school a second chance. His passion for giving back was undeniable — in and out for the classroom.  Once he started retaking classes, he didn't stop there. 
Between pursuing his undergraduate degree in social work, Beasley worked two jobs. As an employee at a comprehensive recovery center for women, he helps provide recovery services to mothers battling substance use disorder. Beasley also volunteers within the religious community, as well as sings in choirs around Lexington.
"There is never enough time," Beasley joked. "It all keeps me really busy."
And if that wasn't enough, Beasley was accepted into the University Scholars Program. The opportunity allowed him to integrate his undergraduate and graduate courses of study in a single continuous program culminating in both a bachelor's and a master's degree.
While Beasley is graduating this December with his bachelor's, where he will address the Class of 2019 as a student speaker, he will once again cross the stage at Rupp Arena in May 2021 to receive his masters. One day, he said, he might even pursue a doctoral degree.
Beasley gravitated toward the world of social work because of his inner calling to serve others. And the field blended well with his keen sense of faith. He is heavily involved at Bluegrass United Church of Christ as 'a young person serving as an elder' and caring for the congregation. Additionally, Beasley works in an organization at St. Paul's Catholic Church that is doing work within the community to bring different faith groups together to think about solving problems.
"I write papers and talk to people often about a scripture in the Old Testament, Micah 6:8, which talks about doing justice, showing mercy and love to people, and I think that social work really embodies Micah 6:8," Beasley said. "That is really the driving force behind anything that I do related to social work and the work I will do in the future."
Beasley has always been a go-getter, but he credits the College of Social Work, for giving him the skills and confidence to succeed.
"This program at UK has fostered and nurtured me and has been phenomenal for me on so many different levels. I always think about all the various professors and faculty that have provided amazing amounts of support and guidance over the years," he continued. "Dean Miller has been an incredible mentor and person that has provided guidance to me that I am sure I wouldn't have got from someone else."
"Daniel is intelligent, intentional, and impassioned. He is an exceptional student and an even better human being," said Jay Miller, Dean of the College of Social Work. "He is the epitome of what is means to do and practice social work. His presence has truly made our College and the University a better place. We will be proud to call him an alum."
Though the CoSW program has been challenging and rigorous at times, Beasley said he would certainly recommend it to others. Based on his experiences at UK — between the faculty, classmates, and classes — Beasley is convinced others will benefit greatly, just as he did, from being a part of the program.
After graduation, Beasley plans to continue his work at the women's recovery center. He hopes to eventually find his way to Frankfort or Washington, D.C., to work on changing policy and advocating on behalf of social workers everywhere.
"I am grateful for the journey because although at times it was incredibly difficult and there were times I was ready to hang it up, there were so many people in my life that have provided guidance and support that has gotten me through to this point," Beasley said. "Even though it has taken 10ish years, I've learned and grown in a way that will make a difference in the way that I serve people after graduation is over."